OH LOUIS ... WE MOVE FROM THE BALLROOM TO HELL WHILE WE HAVE TO TELL OURSELVES STORIES AT NIGHT SO THAT WE CAN SLEEP ...
Chorégraphie : Robyn Orlin. Interprète : Benjamin Pech. Clavecin : Loris Barrucand. Scénographie : Atelier Maciej Fiszer. Chef de projet: Anouk Maugein. Création lumières : Laïs Foulc. Création costumes : Olivier Bériot. Assistance costumes : Studio Habeas Corpus Video : Eric Perroys et Robyn Orlin. Film Milkshoot : Vikram Gounassegarin. Régie générale : Jean-Marc L'Hostis. Régie son et video : Arnaud Sallé. Festival de Danse de Cannes. Date : 10 décembre 2017.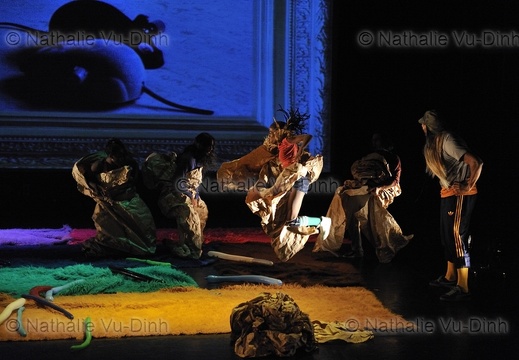 WITH ASTONISHMENT WE NOTE THE DOG ... PART 3 / REMIX ...
Chorégraphie : Robyn Orlin. Interprètes : Manuela Bolègue; Adrien Goulinet, Hakim Hachouche, Josépha Madoki, Sandrine Monar, Feroz Sahoulamide, Jean-Charles Zambo. Musique originale : Antoine Herv&eacute, Véronique Wilmart. Video : Philippe Lainé. Costumes : Olivier Bériot. Lumières : Cécile Giovansili. Lieu : Th&eacuteâtre Jean Vilar, Festival Suresnes Cités Danse - 20è édition. Date : 19 janvier 2012.